Dog Walks
$23/30 min
$29/45 min
$35/60 min
For 1-3 Dogs
Perfect for Pet Sitting Add-Ons
Great for Last-Minute Potty Breaks
GPS Tracked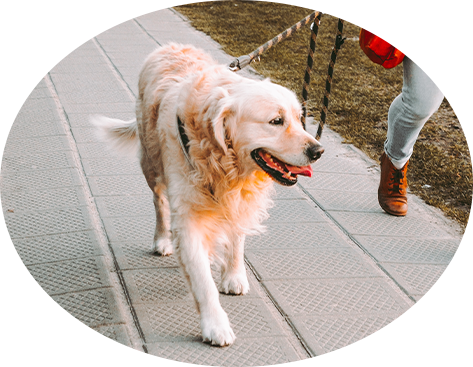 Benefits of Dog Walks
Dog walking not only keeps your pup in shape and helps maintain a healthy weight, but it also strengthens their mental health and improves socialization! Best of all, it helps get out that excess energy that dogs have and prevents them from becoming bored and destructive. Walking can also be a great tool to help timid dogs gain needed confidence, while also satisfying their natural instincts. If you have more than one dog, walking them frequently together can help increase their bonding as a pack.
​Dogs should have an average of at least 30 minutes of exercise every day. That can sometimes be hard for dog owners, which is where Fuzzy Friends steps in to help!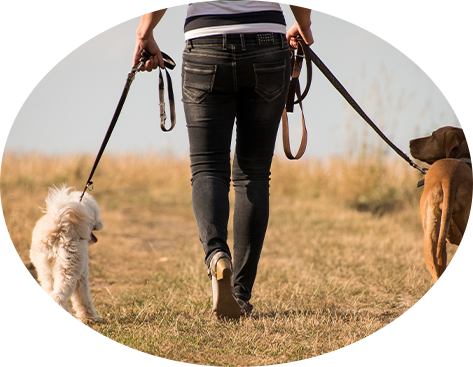 How Does it Work?
Similar to our pet sits, after your initial contact, we'll set up a Meet and Greet with our Office Manager and one of our Dog Walkers so you can get to know us and we can get to know you. Depending on your dog, we may even take them out on a test walk just to get a feel for how we can best address their exercise needs.
We are able to schedule dog walks in addition to our pet sits if you plan on going out of town, if you have a long day at work and worry about your pups being cooped up for too long, or if you just need some assistance in getting them their regular exercise!
We work with you on what's best for your dog!
Keys +
Key Pickups and Returns are $15 each trip.
​You may also purchase a Key Lock Box from us to have on your property for $15. The industry standard practice is our key filing system which is an in office secure safe, where we keep two copies of your keys for zero fee.
Holiday +
Holiday Surcharge of $10 per holiday (New Years, Memorial Day, Labor Day, Thanksgiving & Christmas)
Supply Run +
$15 + Mileage surcharge applies when extra supplies are needed for a sit and they are not on hand in the house. Such as food, medications, etc.
Last Minute Reservations & Cancelations +
All reservations made within 48 hours prior to the start of the first visit, will be charged a $25 fee. 25%—50% fee applies when a reservation is cancelled within 48 hours.